June 5, 2014
Comments Off

on Easter Brunch
Well, again, delayed. But here is the recap of the Easter brunch we hosted. I bought WAY TOO MUCH candy (we still have some!). It was a nice day – we even had an egg hunt outside (last year it was inside due to the weather).
One of the reasons I decided to post this so late was because some of these ideas you could use for a birthday, other holiday or spring/summer in general.
Let's start with my obsession – the centerpiece. If you follow me on instagram, you can get a sneak peak of how my mind works. I was playing around with things I had. Remembering my basic guidelines for a centerpiece – small, movable, able to be seen over if chatting across the table – I didn't want to do candles since it was a brunch. Then I remembered I had these cute little favor boxes – which I used as favor boxes last year. Imagine that! This year I did something different with them.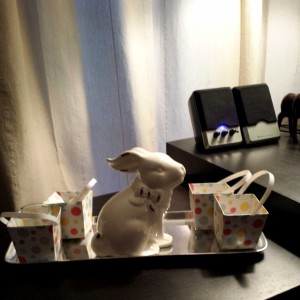 I put them on a long silver platter I had with the bunny in the middle. I liked it. I used votive candle holders as small vases, added flowers and voila!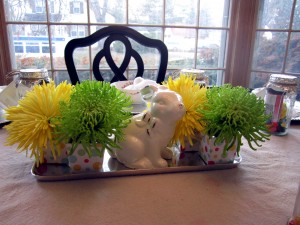 I thought it turned out great. The flowers lived for-eva! So what I ended up doing (wish I had taken a photo) is replace the bunny with a large candle. It looked very springy. This is an idea that you could use for a birthday party easily. A candle or large cardboard letter or even tall vase with candy could replace the bunny.
The table was set with bunny napkins and favors.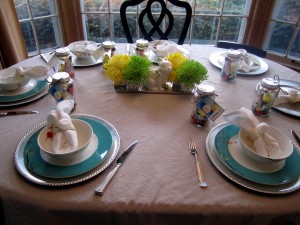 I had an excellent helper for the bunny napkins. I wanted to get Evan, my toddler, involved. He's really into counting and any kind of craft, so this was a big hit. First I had him get 7 cotton balls. (So FUN!) Then I cut 7 pieces of wire paper ribbon to fit around a napkin. We glued the cotton balls on the ribbon…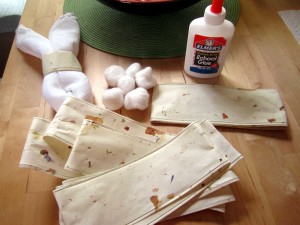 Then folded the napkin like bunny ears. All I did here was fold it in half like a triangle and then roll starting from the center point. When it was a long roll, I just folded in half again until the ends met.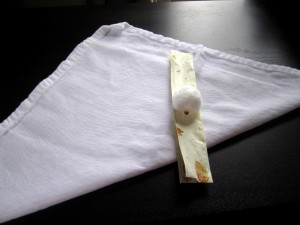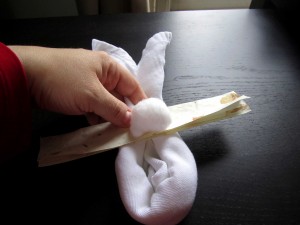 Then I wrapped the "tail" around the napkin. It was easy and I think looked adorable. Plus Evan had a great time telling everyone how he helped with them.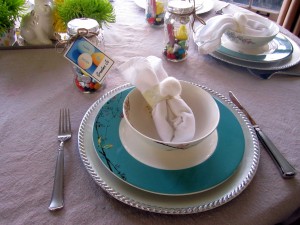 The next thing I did was create these mini candy terrariums that I had seen on pinterest. I just added some candy to the bottom and then a chocolate bunny and peep.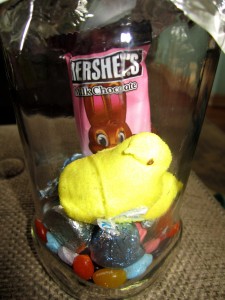 Where I ran into a snag was how to cover it. I don't keep the lids when I save the jars (whoops!). I saw several people painted those so they looked uniform and that would have worked. I tried both tissue paper and wax paper – but they were hard to keep on while trying to tie them. Then I thought about tin foil. Worked perfectly.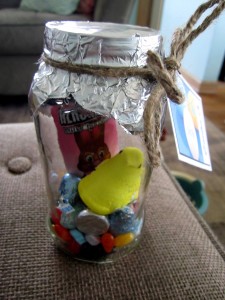 I added a cute tag and that was that.
I also used the tag design on a large standing clothespin to let people know what candy was on the buffet.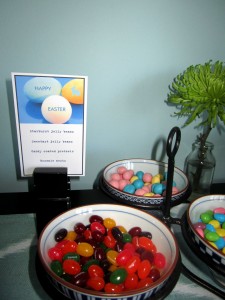 The buffet also had "nest" brownies. I had looked (and pinned) a bunch of desserts. But when it came down to it I didn't want to make time to do them. These were easy and cute. All you do is bake brownie bites and before they cool push them in the middle with your thumb to create an indent, which becomes the "nest." Then when cool, add robin's eggs or jelly beans.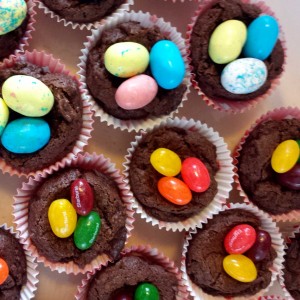 I did see some that were more elaborate with edible grass. But again, time was an issue. These required very little "extra" time to be cute. And I also had a willing assistant.
You could incorporate this idea into almost any "themed" party. I was thinking toy cars would be cute for a child's birthday. A real flower cut right at the bud and added on top would be elegant for an adult party. Or someone's favorite candy. Endless possibilities.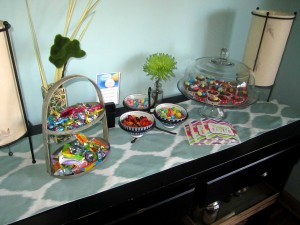 It was wonderful to spend time with the family and ended up being such a wonderful day. It really started to get me jazzed for spring.