Tag Archives: rug
Another change that happened a while ago was the living-room-rug-switcheroo. The other rug we had was fine, but it was a little small.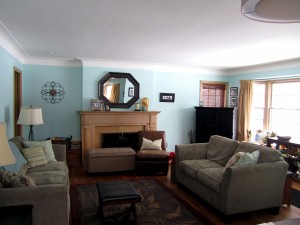 That rug fit a previous living room much better, but we lived with it for a few years in this house. I knew a new rug would add some functionality; the "floating" loveseat would move less if two legs were on a rug (and I also added better grippers to the back legs). And it would also be a better space for toddler playing and adults who may or may not be lying on the floor with said toddler.
I ended up finding a rug that was being discontinued at a home center here in Minneapolis. That was good news because it was the right size, right color scheme and right price. I knew I wanted something with a slight pattern but more neutral. When I saw it on the display I thought it looked more Ikat-y. But looking at a photo later realized it was more floral-y.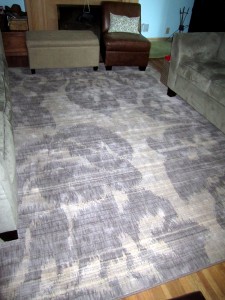 It didn't matter, I thought it looked great. It was exactly what I wanted for now – subtle, some pattern, big, soft, durable. I think it makes the room look more put together and possibly larger? See what you think.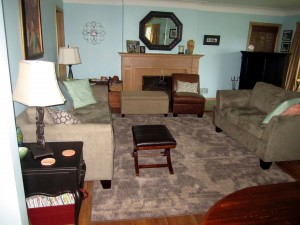 And someday (a few years from now)…it will also go great with the coffee table that is currently being stored in the basement. But for now, let the rolling around begin!