Tag Archives: themed decor
We had a few people over to watch the big game on Sunday. My hubby started this years ago at his place and we've continued at ours. It is a kid-friendly event, so I try to keep that in mind with food and decor. Again, I stuck with my "less is more" approach and embellished just a few places – the two tables that held plates and food, the drink table and the big TV downstairs.
For a centerpiece I took a football and put it in a trifle bowl with some shiny green filler. Then added some football garland (purchased last year maybe?) and put it around the base. I finished off with printing both teams' logos on cardstock, folded in half on each side and some candles in front.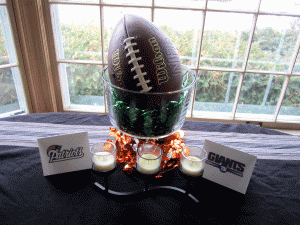 Now, anyone who doesn't have a trifle bowl: buy one. They are good for much more than food. I've used them for several types of centerpieces – flowers (use floral table to help you design the arrangement), floating candles (put decorative marbles or stones in the bottom) and anything else you want to "elevate."
Anyway, back to the other decor. Then I dressed up the plate table with fake green grass and some tiny footballs (which are actually themed Easter eggs that I bought last year). I was lucky enough to find a serving dish that would fit the grass perfectly. Then I had another centerpiece deal that I wanted to dress up a little more, so I put that in a clear vase. I finished that table with the logo, again on cardstock folded in half.
For the drink table I took more of those tiny footballs and put them in a tall vase with some green filler.
For the downstairs "big" TV, I added just a couple of things. Two candle holders with the teams' names. I printed the logos on vellum and then wrapped them around dollar store vases, which can also be used for candle holders. I put one on each side of the TV. Then also put a couple of cardstock logos underneath.
They looked even more frosted when lit.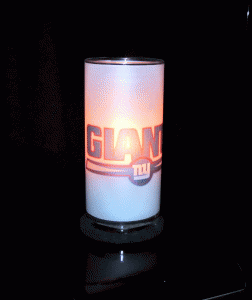 I thought those came out pretty good, even more so when a couple of people asked where I had gotten them.
I am also a big labeler (I am proposing a new word here!) for parties such as these. Are you with me? Have you been to a party where you kind of want to know what's in something or what it is? That's kinda my thing. My friend Alaina always calls it the "food tour," which I love. So I incorporate that into parties now with tags in front of items that aren't obvious – like turkey roll ups with green onions and without. Although for some reason, I did label the brownies.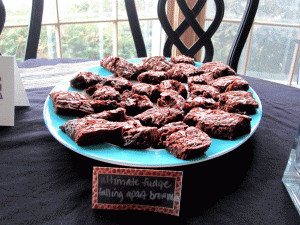 For those wondering, I downloaded the free tags from here. I had lots of labels!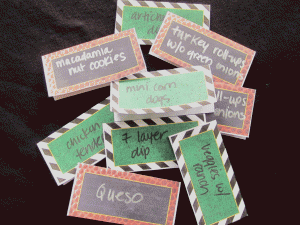 Some people have asked how I determine what to serve. I don't really have a system. I don't usually get too "theme-y" (like all Mexican) because I do try to have an array so that there's something for everyone. For this party we served: mini corn dogs, chicken tenders, turkey roll ups, veggies and dip, artichoke dip, 7 layer dip, queso, salsa, chips, brownies, macadamia nut cookies and Twizzlers.
Drinks were simple with lemonade, soda, beer and wine. I often think about serving a "signature drink" but for some reason rarely get around to it. I guess this year you could count vodka lemonade? Anyway, luckily all my guests are usually happy with the "regular" assortment of non-alcoholic and alcoholic choices.
Did you host and decorate for the game? Do share and tell!