Tag Archives: Valentine's day card
Yes, I am totally cracking myself up over here with that title!
Okay, well this post is actually how I've created some unique artwork/greeting cards using pureed prunes and baby body parts. (Oh yes, I am doing it again – cracking up!) Okay, let's get serious, shall we?
Last November I decided I wanted to make a cute Thanksgiving card using my son's hand print. I wanted to end up with a turkey. I was in a conundrum because he wasn't yet a year old and I wasn't sure how it would fly. I tried to trace his hand – but he was having none of it. Then I had this thought to get a whole hand print. But I wanted to be safe. I didn't want to use paint or an ink pad in case he tried to lick it and I didn't have, nor want to buy, non-toxic paint.
Then it came to me: prunes!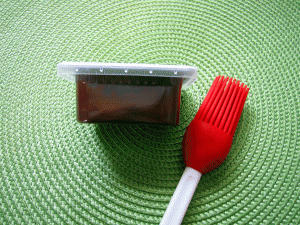 I sat him in a chair, got out the prunes, "painted" his hand with a silicone brush and quickly (!) put his hand on a piece of paper. I also had a paper towel at the ready to wipe it off when were done. The bonus: he could eat the rest! It produced exactly what I was hoping for.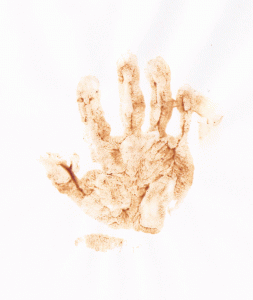 I let it dry overnight and then scanned it in. I printed off copies so that I could play around with making a turkey using crayons and then scanned the one I liked the best.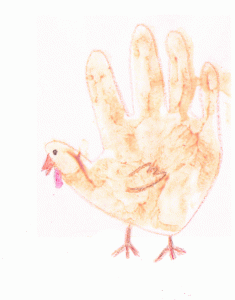 I added a few other elements (wording on the outside and inside) and sent it off.
So when Valentine's day rolled around, I thought it would be fun to do something similar. This time, however, I was aiming for the feet. I did the same process and at first tried to have him stand on the paper. But he wouldn't put his feet down. I guess he knew there was something on them and it didn't feel right? So I sat him back in a chair and then pressed the paper to his feet (I did each foot independently). He didn't much like it this time, so you can see he curled one of his big toes (below on the right). I tried to be really quick and wipe them off.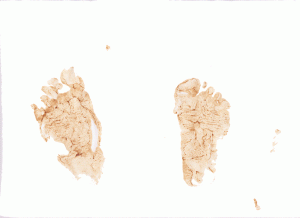 I let them dry (once again) and then scanned them in. I ended up tweaking them to make a heart.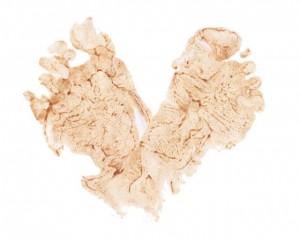 I added a couple more embellishments to the card before sending it off.
Both cards were well received. (Disclaimer: most of the responders were biased – like grandparents and other family. I could probably send them lint or toe jam and they'd still be appreciative!)
Anyway, if you have (or someone you know has) a little one and want to capture their little hands and feet, you might try the prune method. Whether you are looking at them in person or on a card, they really are magical.