Tag Archives: wreath
The holidays are over. That means the Christmas and New Year's centerpieces are out. A "winter" centerpiece has taken its place. Again, I'm about the simplicity. You can read about why that is here. This particular concoction isn't new per se; it's the same from last year. I guess it might end up being kind of my standard for Jan and Feb (excluding a couple of other days that make an appearance – Superbowl, Valentine's Day). It's a hurricane vase with a candle in a large glass bowl with filler.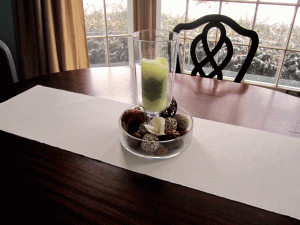 The filler I bought at Walgreens, if you can believe it. I've seen this stuff everywhere – so if you want to make one of your own, it should be easy to find (Target, Joann's, Michael's). Here's a close up.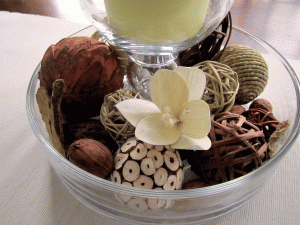 I also changed our front door wreath. This was one of those projects that in my mind's eye looked a little different – maybe better? I mean, I like it, but it didn't turn out exactly how I was thinking. I started with a circular, unpainted frame.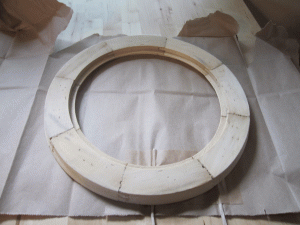 Then I had some teal-ish paint from too long ago. It ended up being pretty thick.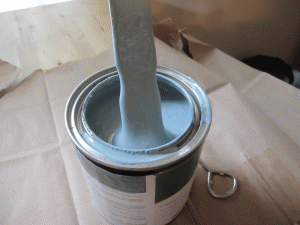 But I used it anyway to create a base coat.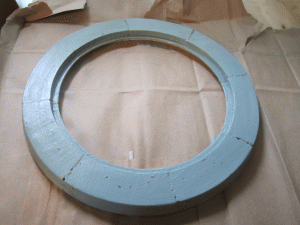 Then I painted it black and sanded a bit, hoping the teal paint would show through, but it didn't for some reason. And for some reason I don't have a photo of that.
Then I decided to make a "J" for the middle of the wreath (last name begins with J). I bought a small cardboard one from Hobby Lobby many, many months ago. I used copper as a base color.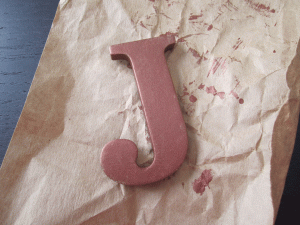 Then I wanted to decoupage it to give some flair. I used the same accent paper that I used for our wedding invites (can I get a collective "aaahhh" here?). Yes, that was an intentional connection. I tried to cut it with an exacto knife with the J facing down. For future projects though I'll trace and then use scissors to cut. I think it would be a cleaner edge.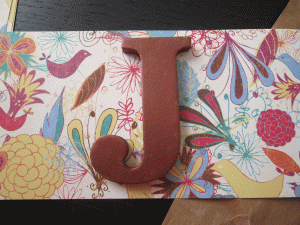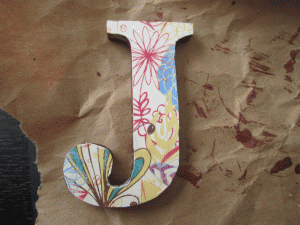 Then it was trying to determine how to get it on the wreath. I tried tying a ribbon around the top part- which didn't really work well. Then tried stapling the ribbon to the back (thinking it would be like a picture frame holder) – which also didn't work well. The problem was that it was crooked and swinging everywhere. It didn't look like hanging in the middle of the wreath was going to work so well.
Then it came to me – add it to the bottom. I thought about gluing it, which I may still do, but for now I wanted it more versatile. For example, I may try to embellish the wreath for other occasions – like spring or Easter – and will want to take the J off and use different ribbon.
So, I took the ribbon and tied it at the top of the "J," then tied it again to create a loop. I wrapped it around the back of the wreath and looped the bottom part of the J and it stayed! To finish, I added a ribbon up top and called it a day.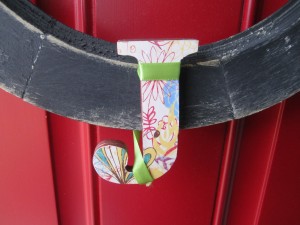 It looks pretty good, even though wasn't what I was expecting. Here she hangs.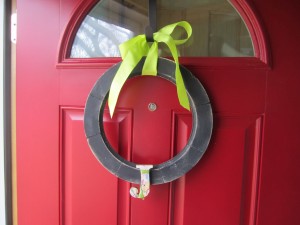 It works for now. Who knows what my mind's eye will think up next! What about you? Does your decor change seasonally?