March 14, 2012
Comments Off

on A Good Read
I just finished reading The Perfectly Imperfect Home by Deborah Needleman.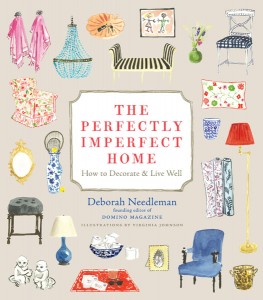 I got my copy from the library. There was a waiting list, but it was worth it. I have long been a fan of hers – she was editor in chief of Domino magazine. The book has some great info and tips for the DIY decorator. I enjoyed it immensely and would recommend it.
The only piece that totally bummed me out was an error in the bedroom section.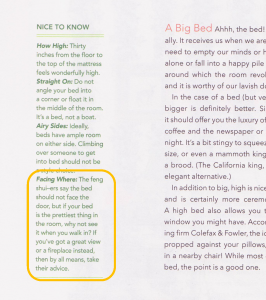 She writes, "Facing Where: The Feng Shui-ers say the bed should not face the door, but if your bed is the prettiest thing in the room, why not see it when you walk in? If you've got a great view of the fireplace instead, then by all means, take their advice."

Someone with Feng Shui knowledge did not proof this part of the book. Feng Shui-ers do not say that the bed should not face the door. Without getting too complicated and detailed, I can tell you that Black sect Feng Shui-ers (like myself) want you to face the door so that you can see it. It's true that we don't want your feet directly in line with the door – but if that is the only placement that makes sense, we can correct for it. And Compass Feng Shui-ers will have you place your bed so that you are facing a good direction. This may (or may not) mean that you are facing the door.
Although Feng Shui is becoming more and more mainstream (people at least know about it), it's too bad when misinformation like this is published. Especially when it's a popular book. It does make me wonder where she gathered that info.
I've heard many other "misnomers" about Feng Shui and it's usually where someone said something offhand that was misinterpreted. And sometimes it's not someone who even really knows that much about Feng Shui (e.g. someone who has read a book speaks like they are an expert).
There are lots of great Feng Shui books out there if you are interested. Check out the Tips, Resources & Reading tab above or my pinterest page for recommended reading. Or if you have a question, go ahead and ask me here or on facebook. It would be great to clear up any misconceptions.
At least we did agree on a few other things in that section. Like making the bedroom a room you love. Don't save this room for "last" when decorating. Do it first. Do it NOW. This is such an important room – where you rejuvenate. Please be inspired by it!