February 14, 2012
Comments Off

on Happy Valentine's Day!
You knew I would decorate to celebrate, didn't you 😉 ? Well, you were right! I didn't do much, just changed out the table centerpiece, added a little something to the fireplace mantle and ended up doing a little on our outside gate too. Part of the reason I don't go all out on the mantel is because of our HUGE mirror. It just makes the scale seem off. That will change soon…
Anyway, back to the decor! I again used my fail-safe (?) rule of 3 things – because an odd number has more interest. You can do symmetry as well, but when thinking about table-scapes and groupings – think odd numbers. I ended up using three round vessels of differing widths and heights. Then added some embellishments.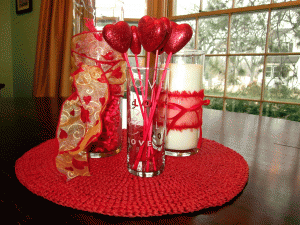 The small container is actually a drinking glass from the dollar store with the word "love" all over it.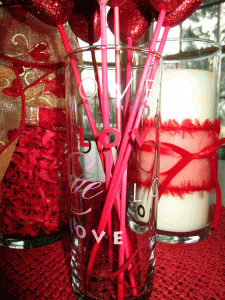 I simply threw in some sparkly hearts (also from the dollar store).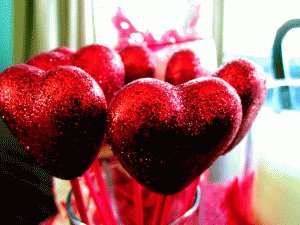 The second container (can be either a vase or candle holder), I wrapped with a fun red ribbon that had fuzz fringe on it. I was going to just keep it plain, but the ribbon kept falling down (I used double stick tape). I guess I could use a glue gun, but went for something easier – I added another red ribbon tied in a tight bow. Problem solved.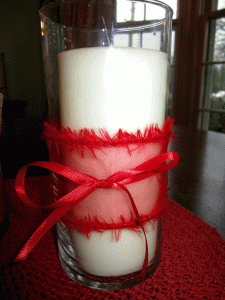 The tall container I tied with a heart-y ribbon and at first added a candle. But it just wasn't working for me. So I took some red paper filler and added that instead. That was the "oomph" I wanted. So voila!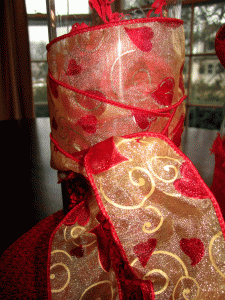 I put it all atop a red round placemat that I already had.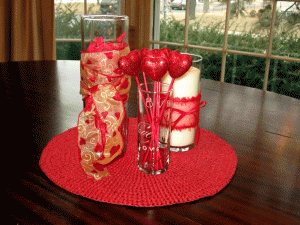 For our mantle, I picked up some cute wood blocks from Target. They can be changed around so they say "love" or "kiss" or probably other words, but I kept as "oxox" (o's are hearts as you can see). You can also see "love" backwards in the mirror.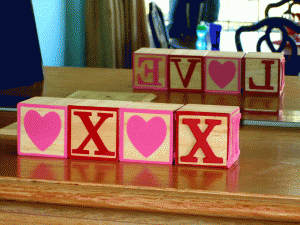 Our outside gate is the one that greets me every day. Because it's just to the left of our garage. It also greets neighbors as they drive down the alley. I hadn't thought too much about that until this summer when a kind neighbor thanked me for having flowers out there (I put a pot of them by the gate) for them to enjoy. So I decided to throw in another find (can't remember where I got it though – Target or the dollar store) – a simple heart hung with ribbon.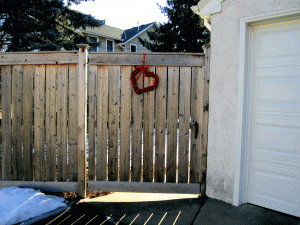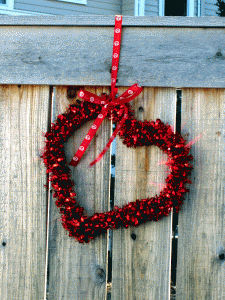 I had put a wreath on the gate for the holidays and am really liking this heart action, so I think the gate will be a regular place to cute-i-fy for the seasons.
I'm wearing a scarf with red in it in honor of the day and put the little guy in a red plaid shirt. Happy Valentine's Day! Wishing you love, laughter and fun today — and all year long of course.