May 24, 2012
Comments Off

on It's Visionary
I've been making some changes to my office. Plenty more pics to come later. I just want to get a couple more things done before I share "phase 1." But as a teaser, I've painted and rearranged. One of the main pieces of furniture that I moved was my desk.
I had it angled and facing the door. We like to do that in Feng Shui; face the door or be able to see it. That meant that my "vision" wall was the doorway and hallway. It was okay but since I was doing rearranging I thought I would try my desk in a new position.
I turned it to face a wall. I can also now look out a window to my left. This meant I could still see the door, but now I had a space for a proper vision wall. What possibilities! I wanted to put up things (quotes, pics) that inspired me. So, I needed something to put them on.
(For those Feng Shui-ers out there – I was facing a good direction angled and am still facing a good direction with the new position.)
Enter Mr. Lack table from IKEA.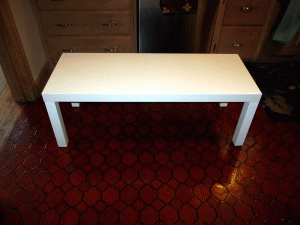 He was sitting in my basement getting ready to go to Goodwill. Then it occurred to me that he could be repurposed as a cork board. Here's the story of the transformation.
Take one Lack table and remove legs.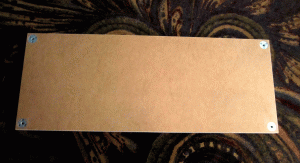 Go to fabric store and browse for fabric that strikes your fancy. I tried not to think too much about what would "match" the new office decor. I just looked for fabric that spoke to me – that was fun and colorful. There was no question when I found this fabric.
Then I gathered all my tools (some of which I didn't need!).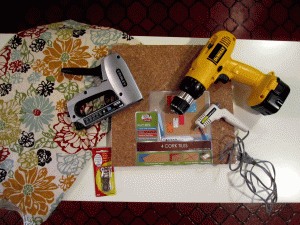 I started by laying out the fabric to decide where to place it. Then I experimented with the cork tiles.
Space between them…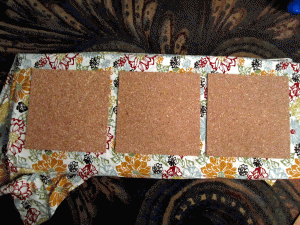 No space…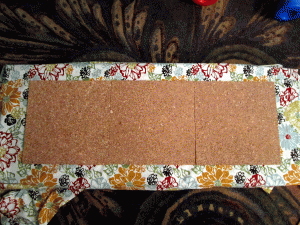 I went with the solid look. Then I stapled the fabric all around. Next up was getting my hangers on. I went with picture hangers with wire because that's what I had on hand. The piece is hollow wood, so it's very light. I measured from the sides, drilled holes and attached.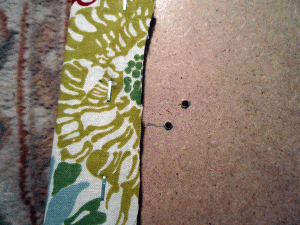 Then put the wire hanger on.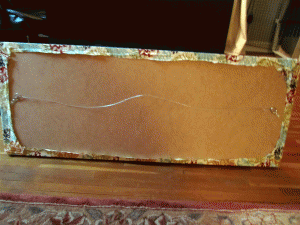 I flipped it over and measured for my cork tiles to have them centered. I was originally going to use the glue gun to attach, but they came with these foam squares. I thought they would be worth a try, so I used those instead. I figure if they fall off, I can use the glue gun later.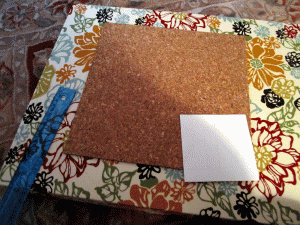 Update: They DID, in fact, fall off. So I took off the foam squares and used my trusty glue gun. All is well, they seem very intact now.
Then hung it on the wall.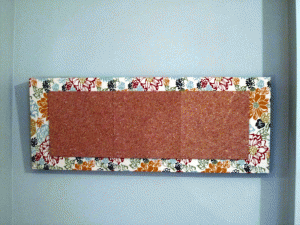 And added a couple of things to start.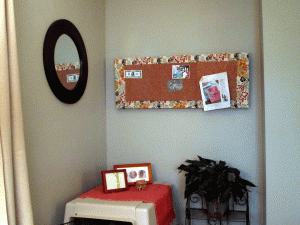 I love it. I think it looks terrific. So the key is to have it remain inspirational and not get cluttered. (Don't want a cluttered vision.) I am not worried about that. I don't like a lot of "stuff" so I know I can keep it in check. I plan on rotating items before they get filed.
Overall, I am very happy with my new desk placement. And I am loving my vision board and option to look outside on occasion.
What about you and your office? Can you see the door? Do you have something inspirational on your vision wall? Do tell. Or better yet, send me a photo and I'll share your ideas!