January 13, 2012
Comments Off

on New Year's Day Centerpiece
We had my in-laws over on New Year's Day for a post-Christmas celebration. It was great to see them and once again our Little Mister was spoiled 🙂 The holidays kept going and going for him this year!
Of course I had to dress up the table a bit. Again, I strayed away from candles because it was too light out for them to make a big impact.
I used some teal-ish circle strands that were on sale at Target (70% off!) for post-Christmas. I also found some straws that I had purchased at Pier 1 foreva ago. To me they looked kind of firework-y (which seemed appropriate). Then put them in a vase with some silver garland (another Target purchase) and wrapped it with a ribbon that I already had.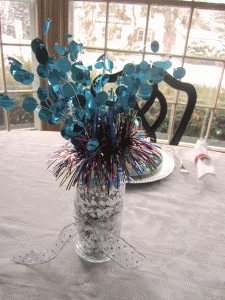 I had wanted to make a centerpiece that I could keep on the table while we were eating, but the strands ended up being a bit too tall for people to see over. I liked the overall look, so decided to keep it and just take it off the table when we sat down to eat.
To add a bit more sparkle, I brought out silver chargers.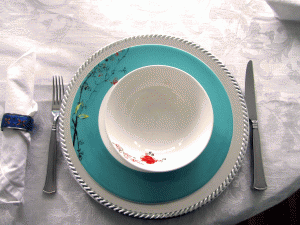 If you don't know what they are, they are basically an accessory for your dishware. It elevates the look a bit. Anyway, here is the final total look. I thought it turned out pretty well.