January 10, 2012
Comments Off

on The Babe Turns 1!
Hello loyal readers, did you miss me? Oh, Mom, you just saw me! Hardy, har, har?
Well, our little guy turned one in early December. And yes, I'm just getting around to posting on it. We had a few people over to celebrate his first year. It was fun and they spoiled him of course! He loved every minute of it! I thought I would give you a bit of a play-by-play of how things came to be around here.
I started with his invite. I made it in Publisher and took photos of him that created an "E," added the details and then put a "1" graphic in the corner.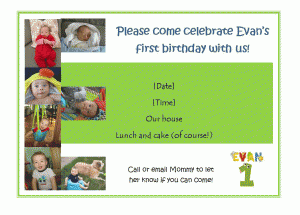 I ended up using that "1" graphic on a onesie I made him. Seen here with a new Cubs sweatshirt (his Dad's and Grandfather's team):

It also went with a happy birthday banner I made and hung from our windows.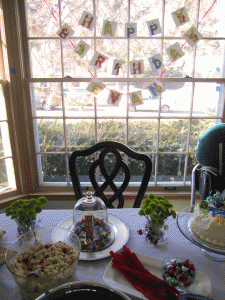 Then it was on to thinking of a simple centerpiece. I always do something visual on the table. When it's a day party, it's usually flowers with something. I love using candles but they don't make as much of an impact during the day. For his party, I looked around and saw his blocks. I once heard someone say (wish I could remember so I could credit them) that putting anything under a cloche ups it's wow factor. They were right. I took blocks that spelled his name, wrapped them in some birthday garland I had and put them under a cloche on a silver charger I had. Cost: $0.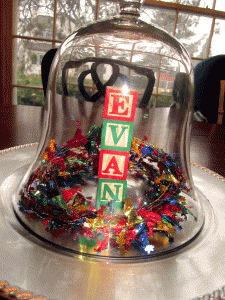 And added some green flowers on each side in small vases with similar garland wrapped around.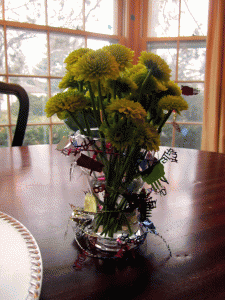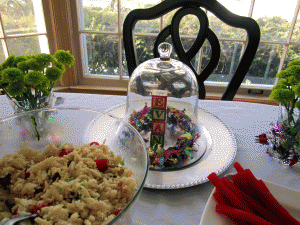 I set up the buffet with plates, a digital frame with photos from birth until now (there were hundreds of course), topped with a couple of party hats and added some noise makers to a juice glass.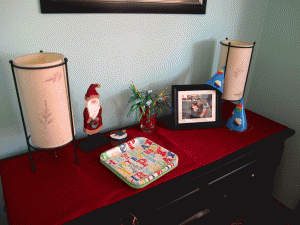 And I liked the idea of photo progression, but wanted to keep it simple. So I took 11 photos – one from each month – and created a big "1" with them. I glued them on poster board, cut it out and taped to the wall.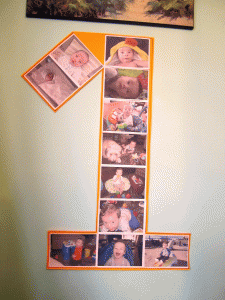 I also decided to "birthday-fy" the tree and added some baby-themed crepe paper.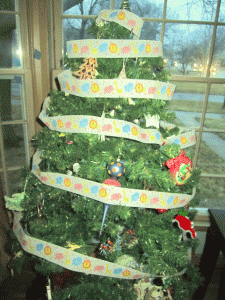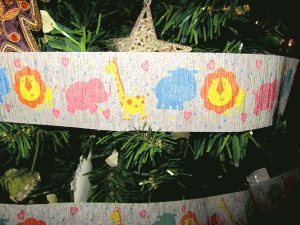 Years ago I went c-r-a-z-y with making practically every dish I served. But now with how busy things can get I try to limit myself to making only 3-4 things, then buying the rest. I find this works well, because with cleaning, decorating and getting just those things ready the time does fly by!
Our menu was pretty simple: make your own sandwiches with chicken, roast beef, cheese and condiments; rolls, chips, orzo salad with toasted pine nuts and feta cheese, artichoke dip, spinach salad with mandarin oranges, feta and walnuts and cake.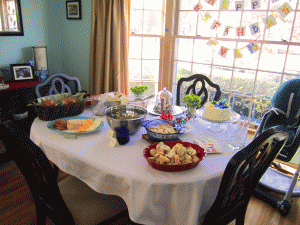 I did not make the cake – a local bakery gives one for FREE, so I took advantage of that! Although I added the sparkly candle 🙂 We did not do a "smash cake" and opted just to give him a piece instead.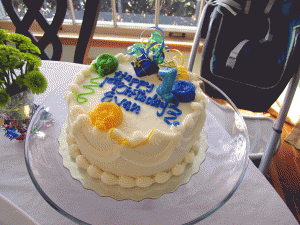 There you have it. All in all a very fun celebration. Hopefully something here inspires you when you get ready for your next party.