December 14, 2011
Comments Off

on Shut the Front Door!
Extra points to who knows where that reference came from. Or maybe it's from several places but I'm thinking of someone in particular. Anyway, how glorious it is to have a shiny new front door! We went from this: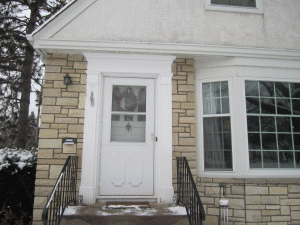 to this: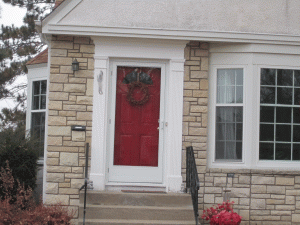 I couldn't be more enamored with the color – Red Delicious from Glidden for those wondering. The name is even catchy! We also replaced our storm door with a full glass one. It quite noticeable from the street, which I like.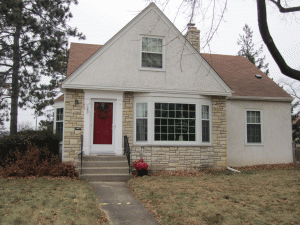 From a Feng Shui perspective, the front door is the "mouth of chi," and where opportunities find you. It's a pretty vital part of any house. And it's very auspicious to have it a different color from the house and the trim. Red is a good color for luck, but whatever you choose, make it one you love. I've always wanted a red front door so this was a no-brainer for me. This is the second one I've had; my pre-married house also had a red front door.
It's all dressed up for the holidays too with a nice wreath. Would you like a close up? Okay, here you go!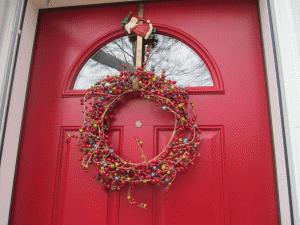 All in all, I think this front door will definitely be inviting the opportunities in. It's getting some attention already.
As for me, I can't help but smile when I am sitting at the stop light across from the house as I come home. I really feel like it's welcoming me. That is my wish for you: for your front door to do the same. Whether it be a nice color or a cute wreath, do something that inspires you!
Oh, and for those of you still stuck on the opening sentence – I was thinking of Stacy from What Not to Wear. She often exclaims that when people show off their new look.