November 29, 2011
Comments Off

on The Ark Called. Noah Wants His Drapes Back.
Our house has gorgeous bay windows. Huge windows. One in the living room and one in the dining room. These rooms are connected. Like so.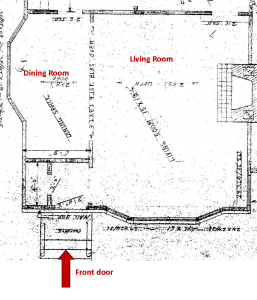 They had the same matching curtains. I am fairly certain they were custom. Why? Because they were 70″ long. An odd length. Too short. Waders if you will. Every time I looked at them, I was uninspired. You can imagine the urgency that started to swirl around changing them out.
And finally, folks, it's done. The new, flowing, right-length, curtains are up. Looking wonderful and inspiring. It's amazing the difference I feel now when I look at them; I feel an "aaaahhhh" coming on.
They went from drab and dreary off-white…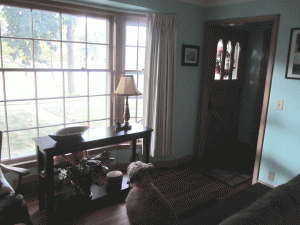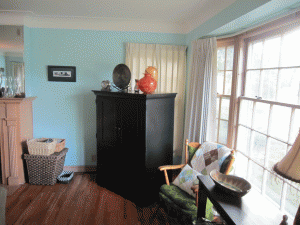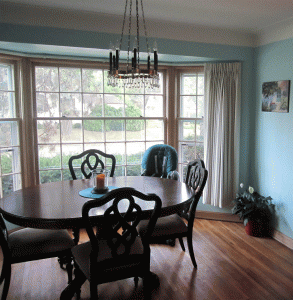 Now, do note that I broke the "rules" on window treatments. Because I can. I know you are suppose to have them match in the same room. But I just really felt that the back corner (behind the TV armoire) in the living room was too dark. I wanted to open it up and the bamboo shade seemed like a perfect solution. It lightens up the whole corner – not only by taking out the heaviness of the drapes, but also the shade itself lets more light in. It works for me. And really, isn't that all that matters? Your house should inspire YOU first and foremost.
So, b-bye curtains. You can wait for a flood somewhere else.