December 1, 2011
Comments Off

on Movable Christmas Tidings
I don't know about you guys, but here at the Janusz household, we use our dining room table every night. Yep, for reals. Partly because we have a galley kitchen and although there is a tall bistro-ish table in there, we hardly use it (unless one of us is chatting with the other while a meal is being made). And we're not the sit-on-the-couch-eat-at-the-coffee-table type peeps.
So, when Christmasfying our house, I had to be a bit realistic on what to do to decorate said table. Although I see wonderful centerpieces adorn tables in mags and on the net, they wouldn't meet our main requirement: easily movable. It has to be able to be pushed aside to make room for plates and well, dinner. I find I'm gravitating away from the green and red color scheme (lightening up around here) and put together this: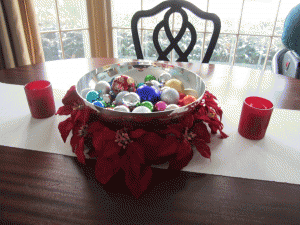 I got the white runner from IKEA, used a poinsettia wreath as the base, stuck a large silver bowl in the middle and filled with extra bulb ornaments. Then added two Christmas themey candle holders on each side. It's a sparkle of metal with a dash of red.
Although not too complex, I do like the simplicity of it. Part of me thinks it might benefit from more height, but for now, I'm keeping it. I can push it to the side to make room for the main dish and sides, then pull it back when we're done eating.
Also, if you take a close look, there are lots of colors in there. All 5 elements from a Feng Shui standpoint are represented. Not that yours needs to have them, it was just a bonus on this one.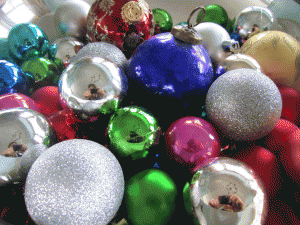 Yes, Feng Shui even has a little to say about holiday decor. And if any of you out there are interested in learning more about that, we (through the Wind & Water School of Feng Shui) are doing a FREE call on that very subject. Email me (lisa at inspirechi dot com) to register for How to Decorate for the Holidays Using Feng Shui Principles, Thursday, Dec. 15 6-6:45 p.m. You don't have to know a lot about Feng Shui either.