April 24, 2012
Comments Off

on Easter Brunch
Okay, so I'm a little delayed. But I've been out of town. Do I get some leeway? I'll work on it!
Here are some shots of our Easter table. We had my husband's parents and sister over for brunch. The base was a plain white tablecloth and then added touches to it. First, two vases of yellow flowers.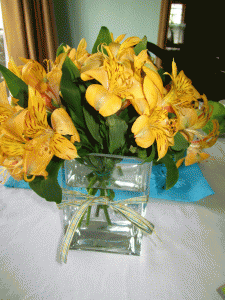 If you are wondering how I got them "bunched" – I just cut them so they would be at the tops of the vases and then used floral wire to tie them together. Because the wire is green, you can hardly see it. I also added a little flourish with some random ribbon I had around.
Then between those I added a bowl with some fake grass and put a sign in it. I couldn't find the graphic I wanted – which was something that had both the Easter bunny and a nod to the religious occasion that it was. So I printed out a graphic I liked then added some text.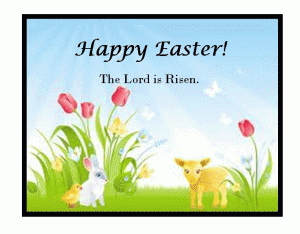 I printed it on card stock (2 up) and I used glue to put back and to back with toothpicks at the bottom so they would stick in the grass (I used tape for the toothpicks). I thought it needed a little more color, so set it on a square teal placement I had.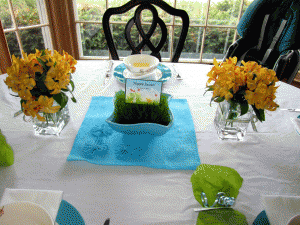 I also printed out a graphic that was meant to be a large card. I made it smaller and turned them into place cards. I hand wrote the names.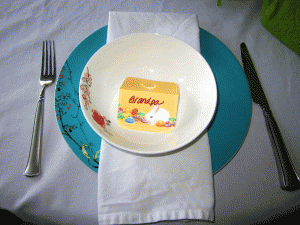 I also picked up a little gift to them from Evan and put those near their spots. Again finding a graphic online and then adding text to it.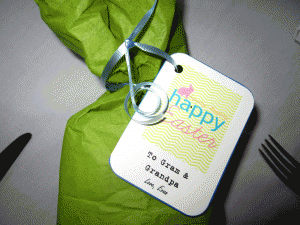 The whole table came together nicely I thought.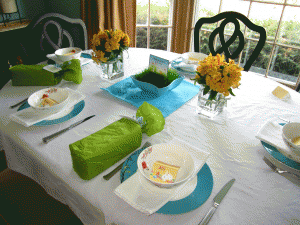 And what's Easter without candy of course? I put jelly beans in a fruit/dessert cup and put that in a large glass bowl with chocolate candy surrounding it.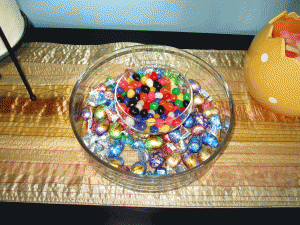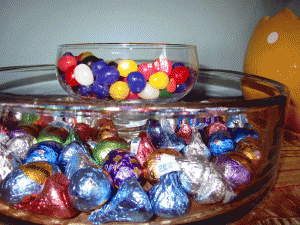 Right before brunch we had an Easter egg hunt for the little guy.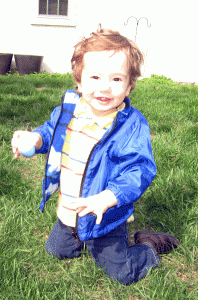 The Easter bunny had arrived during the night and brought him a few other things – like a pinwheel, book and bucket/toys for digging in sand or dirt.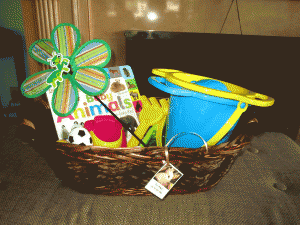 Of course it had a tag noting who it was for and who it was from!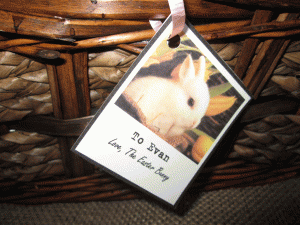 He then enjoyed his eggs and other gifts for most of the afternoon.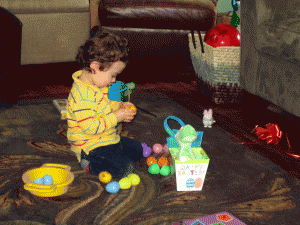 It was a wonderful day spent with family!