March 13, 2014
Comments Off

on Luck O'the Irish
I'm Irish! Yep, true story of my heritage. So St. Patty's Day has always had a place in my heart. I wanted to do a little bit different decor from previous years so I got out what I had an assessed the situation. There wasn't much there, but I knew with a few other things I could make something fun.
I didn't want to invest too much time, but I did settle on one project: vases that spelled "Lucky."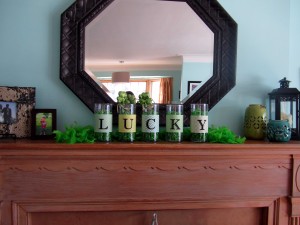 I grabbed some free backgrounds from the web here and then used Publisher to make strips of them. I manipulated them slightly and then added one letter centered on each. The font I used was Imprint MT Shadow.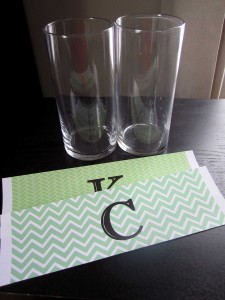 I just used tape to hold it in place. I lined the vases up side by side to make sure the letters were the same level. Then I used my trusty assistant to help me put green filler inside. Lastly, I added a few shamrocks and surrounded with a green boa.
I added some sparkle to the clock with a mini garland I had and balanced it with a glass of necklaces.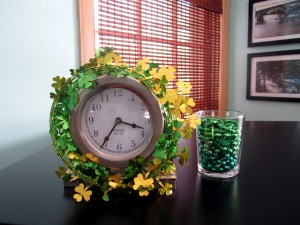 Then I changed up the table centerpiece with a green pitcher, some sparkly shamrocks and a hat, a ribbon and more green filler (so you couldn't see the "sticks").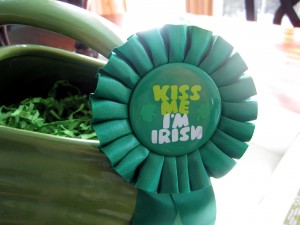 Even the bathroom candle got an Irish influence (shamrock lei).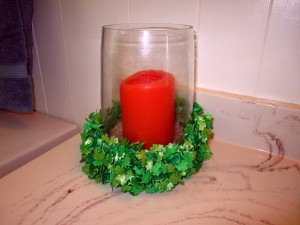 Even the gate got a little bit o'decor.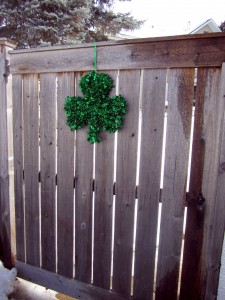 I like the added flair for the holiday. But what was really fun was having an adorable 3-year old, who happens to live with me (okay, my son), wake up from his nap and get so excited about the decorations. He even grabbed Daddy's hand when he got home to give him the "tour" of the decor. Every. Single. One.
Do you decorate for St. Patrick's Day?